Appearance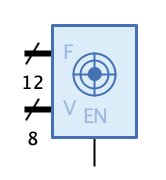 Behaviour
Plays a sound of a given frequency and volume if the buzzer is enabled. An individual buzzer can only play one sound at the time, but there can multiple buzzers playing at the same time.
Pins
EN

1-bit "Enabled" input. If 1, the sound is played.

F

12-bit "Frequency" input.

V

8-bit "Volume" input.
Properties
Waveform

The waveform of the played sound. Determines the acoustic characteristics of the played sound.

Sine

Square

Triangle

Sawtooth

Noise