Appearance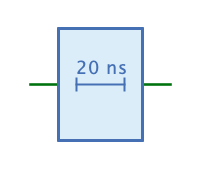 Behavior
The delay element outputs the signal present at the input after an adjustable delay time at the output.
Pins
Input

A 1-bit input that accepts the signal to be delayed.

Output

A 1-bit output, which outputs the delayed signal.
Attributes
Orientation

The direction in which the output points.

Bit Width

The bit width of the input and output pin.

Delay

The delay time in nanoseconds.