Appearance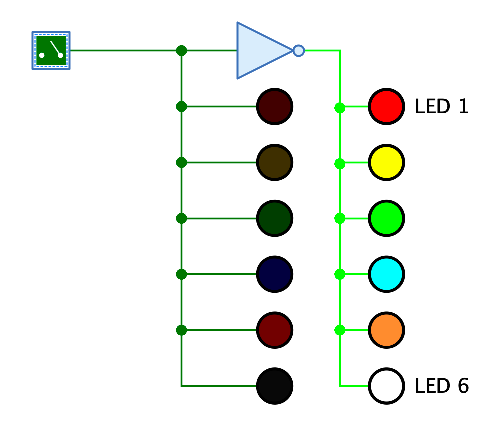 Behavior
Indicates the value at the input by displaying the LED's luminous body according to the color of the LED. A 1 at the input results in a bright LED, a 0 results in a dark LED.
Pins
An LED has only one single input of bit width 1.
Properties
Orientation

The direction in which the luminous body is pointing.

Name

The name of the LED, which is displayed as text next to the luminous body (on the side opposite the pin).

Color

The color of the luminous body. The menu offers all light colors implemented in Antares for selection.

Square

If set, the luminous body is drawn as a square rather than a circle.

Size

The size in which the LED is drawn.

Border

If not set, the LED is drawn without a border, which can be useful for building areas of multiple rectangular LEDs.